« June 2007 | Main | August 2007 »
July 31, 2007
Colour Printing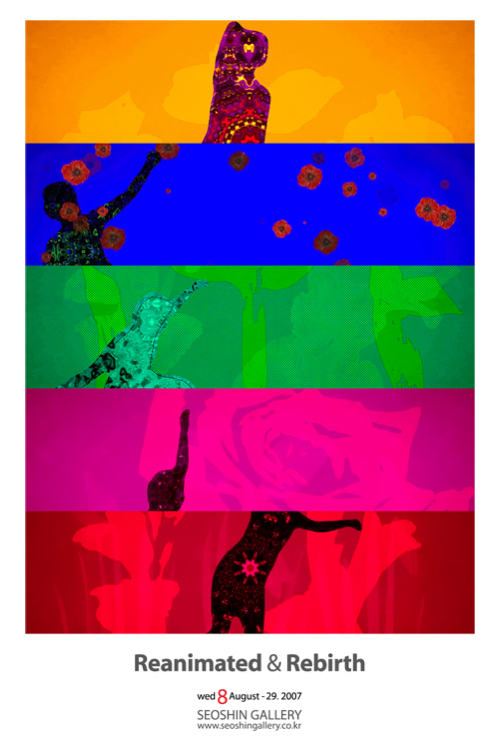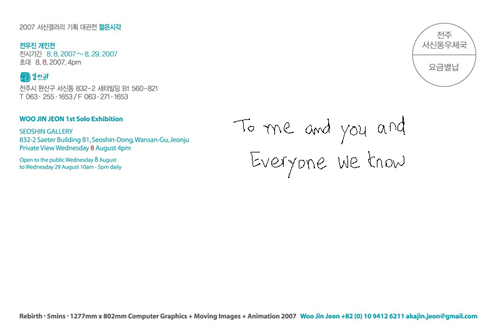 주소를 이메일로 알려주시면 엽서를 보내드리도록 하겠습니다.
이메일주소는 제 프로필 카테고리에서 확인하실 수 있습니다.
Posted by administrator at 08:43 PM | Comments (0)
July 24, 2007
Multi Tasking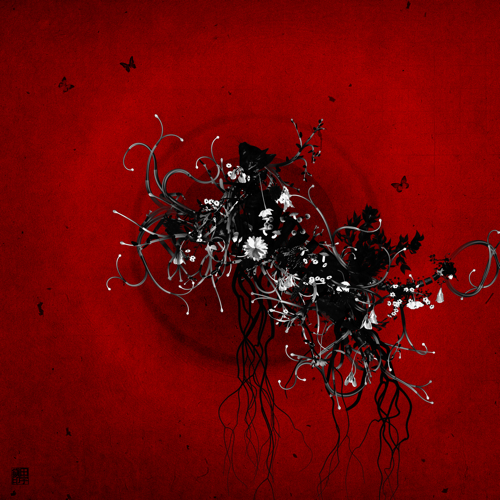 猫. 2D+3D computer graphics. 2007 KSBDA International Summer Exhibition. Tsukuba. Japan
WOULDN'T IT BE NICE
IF EVERYONE WOULD
JUST DIE...
Ocean of Hopelessness
Fragile Souls
Devious Smiles
Morbid Objects
Self Destruction
Cruel Strangers
Replacement of the opposite sex
Immediate Cure
Spreading Enfeeblement
Wish for nothingness
Imprisoned Ego
Fear for separation
One-sided Mistakes
Fright of strangers
Dangerous Thoughts
Denial with strangers
Aversion to harmony
Arrogant understanding
Pity for the weak
Uneasy Photographs
Scars from the past
Blurred Borders
Divergence of common sense
Lonely People
Question of value
Fusion with desire
Return into the womb
Empty Time
Decline of yearning
Needless Me
Beginning of fabrications
Continuation of reality
That's the end of the dream
THEN,
WHY ARE YOU HERE?
...Do you really want to stay here?
[EVA] The words on EOE posters
NEON GENESIS EVANGELION: AIR/MY PUREST HEART FOR YOU.
http://reanimated.cafe24.com/mt/archives/2004/07/the_end_of_evan.html

Posted by administrator at 05:15 PM | Comments (0)
July 09, 2007
Live Earth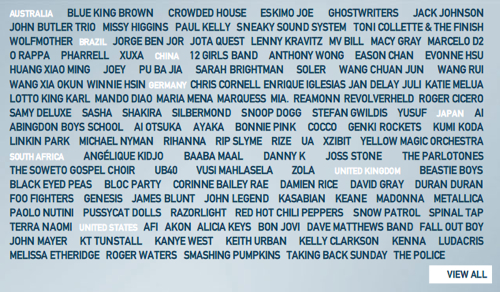 우린 언제쯤 여전히 높은 이 국제사회의 장벽을 뛰어넘을 수 있을까?
http://www.liveearth.org/
Live Concert --> http://liveearth.msn.com/concerts/UnitedKingdom

Posted by administrator at 02:31 AM | Comments (0)
July 08, 2007
Time waits for no one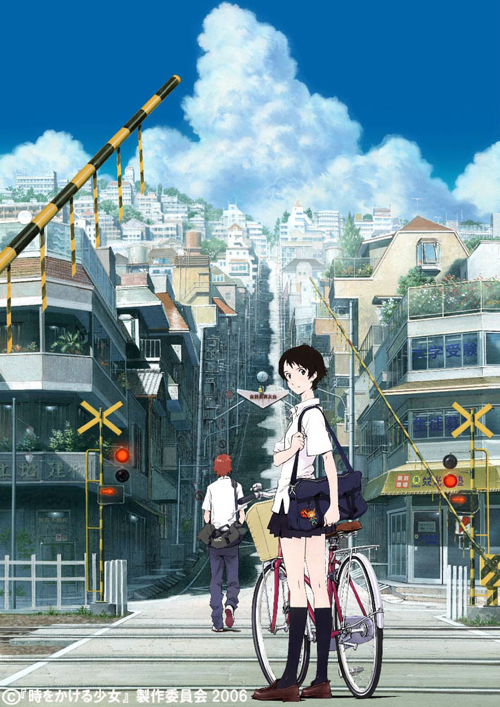 時をかける少女: Toki wo kakeru shôjo. The Girl Who Leapt Through Time, 2006
Director: Mamoru Hosoda
Writers:
Yasutaka Tsutsui (novel)
Satoko Okudera (screenplay)
Riisa Naka: Makoto Konno (voice)
Takuya Ishida: Chiaki Mamiya (voice)
Mitsutaka Itakura: Kousuke Tsuda (voice)
Ayami Kakiuchi: Yuri Hayakawa (voice)
Mitsuki Tanimura: Kaho Fujitani (voice)
Sachie Hara: Kazuko Yoshiyama (voice)
Yuki Sekido: Miyuki Konno (voice)

Posted by administrator at 03:41 AM | Comments (0)
July 06, 2007
Talent: After the break
Did you know?
Paul first sang opera at the age of 28 for a karaoke competition where he dressed up as Pavarotti.
He went on to perform in Barrymore's My Kind Of Music (1999). The money he won from the show (£8000) along with his savings was spent on attending various training courses in Italy.
From his Italian opera class he was selected to sing in a master class for Pavarotti and Katia Ricciarelli – who he says were very impressed. Paul reckons he's spent £20,000 in total to get to where he is today.
Paul has performed in four semi professional operas in the UK and some concerts. His proudest performance was with the philharmonic orchestra in a concert in front of 15, 000 people.
After having appendicitis doctors discovered a benign tumour that was removed. Two weeks after the operation he was back on stage.
A motorbike accident in 2003, in which he broke his collar bone, kept him away from performing and he got left out of the opera circles.
Since his illness, Paul has struggled with money and has never reached his potential, and this is why he chose to enter Britain's Got Talent.
Paul has been married for four years to his wife Julie (26), whom he met in an internet chat room. They have been together for six years in total
Paul has worked at the Carphone warehouse for two years - one year as manager – before that he worked the night shift stacking shelves and personal shopping at Tesco.
From Britain's Got Talent --> Link
Judges: Simon Cowell, Piers Morgan, Amanda Holden
Hosts: Ant & Dec
Posted by administrator at 05:40 PM | Comments (0)
Things that make me feel dirty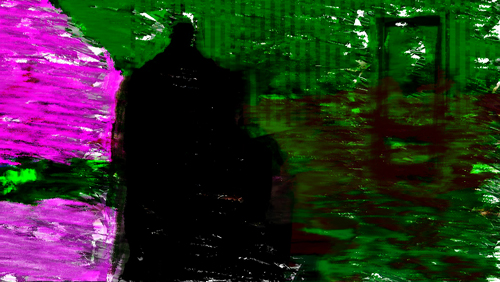 Wall. very humid weather in July. 2007. work by Jin.
마음이 굉장히 불편하다.
잘되는 일에는 이렇게 마음이 불편하지 않는데,
일이 잘 안되려나 보다.
사람들을 자꾸 밀쳐내려고 하네.
요즘 색깔도 잃어가고 색도 다시 어두워지고
뭔가 잘못되어 가고 있는게 틀림이 없는걸.
아무래도 말을 너무 많이 했어.
말 많이 해놓은 일치고 제대로 되는 일 하나도 못봤고,
어떤 사람들은 자꾸 얘기를 해야 일이 잘 해결된다고 하는데
난 말 많이 하고 일 해결된 적이 단 한번도 없었다.
그러니 이번일도 잘 안풀릴게 분명해.
Posted by administrator at 02:15 AM | Comments (0)
July 05, 2007
Tsukuba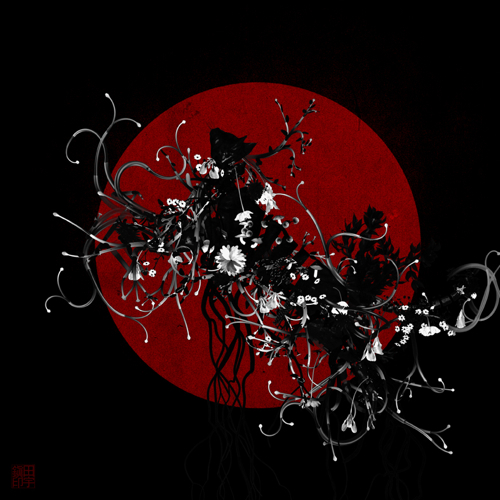 츠쿠바에 보낼 첫번째 시안. 猫. 2D+3D computer graphics. 2007 Summer.
만날 사람들은 어떻게든 다시 만나게 되어 있다.
다시 뵙게 되서 무척 반가웠습니다.
Posted by administrator at 01:42 AM | Comments (0)