« January 2010 | Main | March 2010 »
February 23, 2010
Introducing EOS Movie Plugin-E1 for Final Cut Pro
The Rise of EOS HD Video:
Apple Inc's Final Cut Studio™ software for non-linear editing (NLE) has become a dominant choice among enthusiasts and dedicated professionals alike. This professional Apple software application is well known for its smooth performance and editing speed, both invaluable assets for editing software.
The recent explosion of digital SLRs with video capability has turned many traditional videographers and photographers toward cameras such as the EOS 5D Mark II, EOS 7D, and the newly-introduced EOS-1D Mark IV to create stunning high definition footage at a very afforable price. The large imaging sensors of these cameras, comparable to or even larger than 35mm motion picture film, are a key reason for the peerless HD images they produce, offering 'filmic' control over depth of field, as well as extremely sharp detail, clarity, and low-light performance — all of which can exceed that of high-end professional video cameras costing tens of thousands of dollars.
Another reason for the impressive video image quality of Canon's EOS digital SLRs is their use of the sophisticated H.264/MPEG-4 compression method for recording video files to the camera's memory card. This is an ideal file type for video capture in an SLR camera, delivering relatively compact file sizes with image quality noticably superior to alternate video compressions (such as Motion JPEG).
However, the H.264 compression format requires that files be transcoded into a format better suited to editing, effects, and color grading; this would usually be Apple ProRes. The transcoding to ProRes can be a fairly time- and processor-heavy intermediary step that pays off later with superior speed once the post production process begins. That's where EOS Movie Plugin-E1 comes in: It doesn't eliminate the need for transcoding, but it includes several improvements in functionality and interface, making the experience of editing EOS HD Video footage with Final Cut Pro as fast and seamless as possible.
EOS Movie Plugin-E1 Key Features:
On Febrary 5th, 2010, Canon Inc. announced the launch of a new, completely free plug-in to be used with Apple's Final Cut Pro (FCP) software. Once this plug-in is installed, it works in tandem with FCP software and can be called-up directly the editing program's menu system.
Simply stated, this new plug-in turns the editing process with video files from EOS digital SLRs to a much smoother and highly automated process. Among the benefits of the new Canon EOS Movie Plugin-E1:
* Smooth, intuitive ingestion of original EOS video files, using FCP's Log and Transfer function.
* Time Code is added to each clip (based on the camera's date/time stamp), as well as user-given 'reel names' and extensive metadata embedded in the ProRes files, which can then be viewed from FCP throughout the editing process.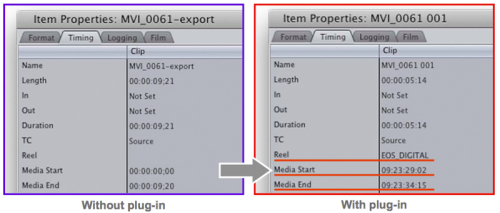 # Automatic transcoding of clips from H.264 to various Apple codecs. For example: ProRes 422, which combines superb imaging with no perceptable degredation from the original H.264 files. Selectable formats include:
Final Cut Pro 7:
o ProRes 4444
o ProRes 422 (HQ)
o ProRes 422
o ProRes 422 (LT)
o ProRes 422 (Proxy)
o Apple Intermediate Codec
Final Cut Pro 6:
o ProRes 422 (HQ)
o ProRes 422
# Transcoding time may be up to 3x faster than previously possible with EOS movie files using Compressor, or similar (performance tested on a 2.8GHz Quad-Core Mac Pro).
# With the Log and Transfer function, users can set in and out points to transcode and import only the portion of the clip needed for the project, greatly improving speed and productivity.
# Create a disk image (DMG file) of the memory card that may be mounted and used for Log and Transfer operations in place of the physical card – archiving all your footage, and freeing up your CF cards for immediate re-use.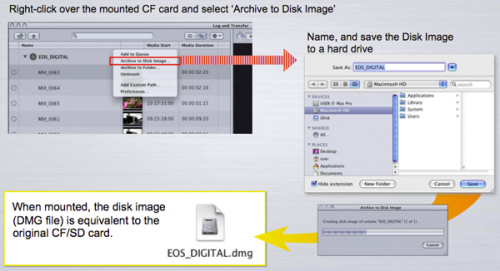 Compatibility
Canon's new plug-in software will only work with Final Cut Pro software versions 6.0.3 through 7.0 (Please note: While Canon is aware that many video enthusiasts and professionals may use earlier versions of Final Cut, or other NLE programs entirely, as of February 2010 EOS Movie Plugin-E1 is exclusively compatible with the versions of FCP listed above).
EOS video files from the following cameras will be supported by the initial version of this plug-in software:
* EOS-1D Mark IV
* EOS 5D Mark II
* EOS 7D
* Support for the EOS Rebel T1i (also known as EOS 500D) will be added at a later date.
Sample Workflow with the EOS Movie Plugin-E1:
Once your CF memory card is placed into a reader connected to your computer, follow the steps below to import footage using EOS Movie Plugin-E1:
1. In FCP, select File > Log and Transfer. The Log and Transfer window should pop up, showing thumbnails of all the media on the CF card in the left-hand column.
2. In the Log and Transfer window, select Preferences from the Action menu (the gear-shaped icon near the top of the window).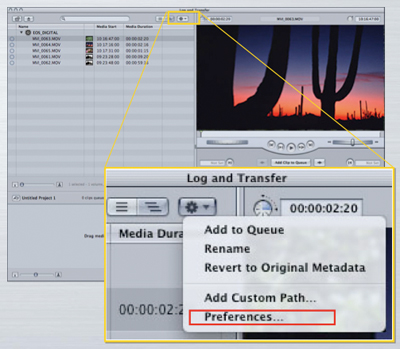 # In the Import Preferences window, select 'Canon DSLR' as your Source, and then select the Transcode to format of your choice (such as ProRes 422).
# Once your preference is selected, hit OK to go back to the Log and Transfer Window.
# Select the thumbnails to view clip(s) in the right-hand preview window and set in and out points, as needed.
# Add reel names/numbers, scene data, and other notes in the Logging Area, as needed.
# Drag-and-drop the clip(s), or press the Add Selection to Queue button or the Add Clip to Queue button (below the preview window) to move your media to the Transfer Queue area at the bottom-left.
# From the Transfer Queue, all media is automatically imported and transcoded. The transcoded files will appear in the browser area of your project window, ready to go directly into the timeline.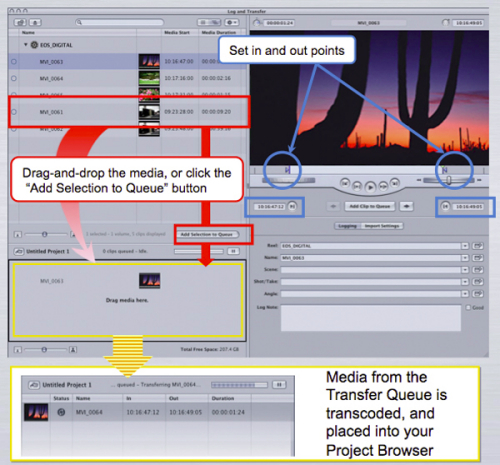 Availability:
Canon's new plug-in software for Final Cut Pro will be available for FREE download on Canon web sites around the world in early March 2010.
Summary:
In a short period of time, Canon's engineers have shown a remarkable appreciation for the needs of critical video shooters and production people working with files from EOS digital SLRs. With this new plug in, the vast array of customers who use Apple's Final Cut Pro software will have a streamlined path for selecting and editing video files from EOS cameras. The new plug-in will work seamlessly within Final Cut Pro, speeding workflow significantly and encouraging users -- even those working under deadlines -- to take advantage of the quality and accessibility of EOS HD video.
Above content is accurate as of February 8th, 2010, and subject to change.
Posted by administrator at 02:58 PM | Comments (0)
February 21, 2010
Unpredictable
맥없이
아무나 붙잡고
짜증내고
신경질내고
구박하고
욕하면
돌아오는것은
칭찬
웃음
사랑
용기
참아름다운세상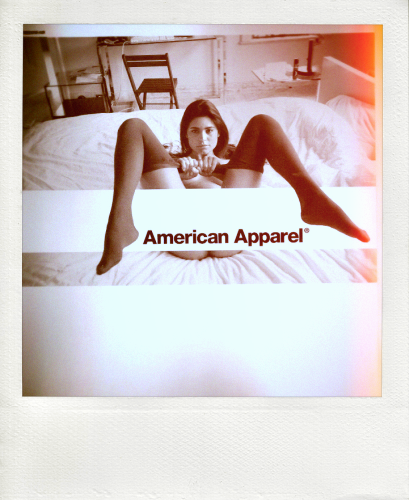 이 소스 어디서 들어온것인지 내 주변에 아는 사람이 꽤 될듯. 특히 본좌.

Posted by administrator at 02:41 AM | Comments (0)
Fine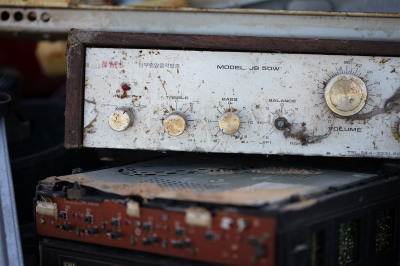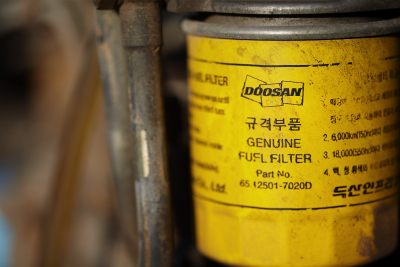 다 버리더라
너에게도 곧 그런날이 오겠지
너희들은 어떻게 버려졌니
그건 꿈같은 이야기.
Posted by administrator at 01:17 AM | Comments (0)
February 20, 2010
Thee
If I had but an hour of love,
If that be all it's given me.
An hour of love; upon this earth,
I would give my love to thee.
-Lovely Bones 중에서-

Posted by administrator at 01:05 AM | Comments (0)
February 13, 2010
Korean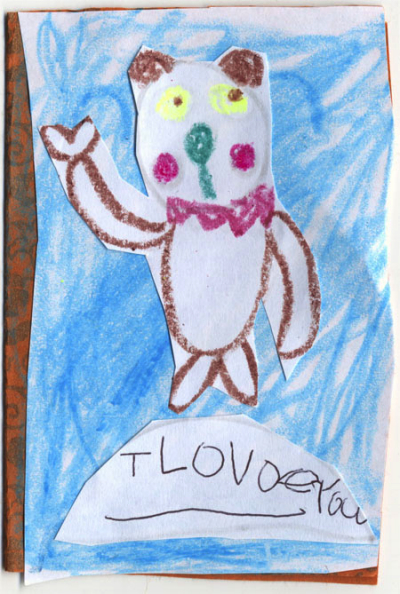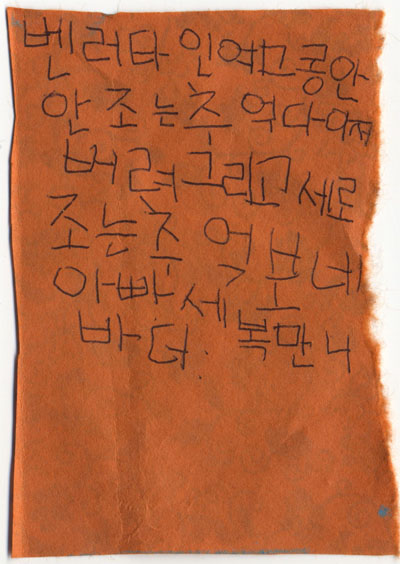 PanPan's Valentine card for her papa
역시 한국말은 어려워.
그래도 이번주는 설날의 승리.
빨다주귤 노노연 풀녹초 청바파 감남남보 붉자연은 색상명이고
네엿칠칠 아칠칠 엿다섯개 다사네삼세 사네사오는 명도번호고
모두 모두 새해 복 많이 받으세요.

Posted by administrator at 12:34 AM | Comments (0)
February 09, 2010
Feb 2010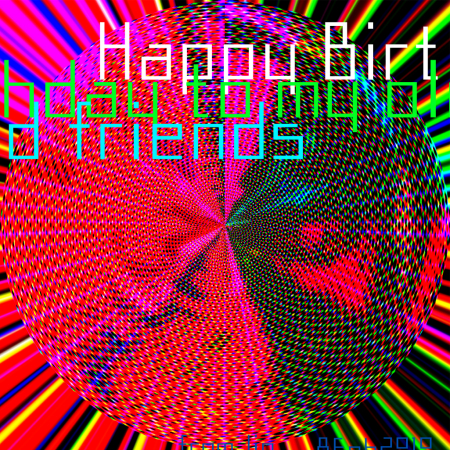 올해도 어김없이 몽땅 들어있는 2월달.

파워투게더-내곁에네아픔이 1993
보컬 - 블랙홀 주상균, 백두산 김도균, 블랙신드롬 박영철, 스트레인저 선종욱
Posted by administrator at 02:54 AM | Comments (0)
February 05, 2010
High School
Guns N' Roses - Live In Tokyo 92 - 8/10 - Knockin On Heaven's Door (part 1, intro: only women bleed) *no copyright infrigiment intention*
sorry, i cut the video in 2 parts because it's longer than 10 minutes :(
제일 잘 나갈때는 도쿄돔 1번. 20년 지나서 한국온들 무슨 소용있으리.

Guns N' Roses - November Rain Video (1992)
From the album Use Your Illusion I (1991)
Copyrighted to: Universal Music Group
저거 녹화할라고 BS1 나오는곳 많이도 찾아다녔슴.
난 저 슬래쉬의 모자가 미치도록 가지고 싶었다.
Posted by administrator at 10:45 PM | Comments (0)
February 03, 2010
Hof
큰 스크린 있는 호프집
Get a grip. 1994. Aerosmith
Posted by administrator at 12:36 AM | Comments (0)
February 02, 2010
Mitt Liv Som Hund
새해 밝은지 며칠이나 됐다고 하루에 열두번씩 가슴이 터져버릴만큼 복잡한 일들이 벌써 몇개씩 일어나고 있다.
Posted by administrator at 01:57 AM | Comments (0)