« December 2009 | Main | February 2010 »
January 30, 2010
Save Us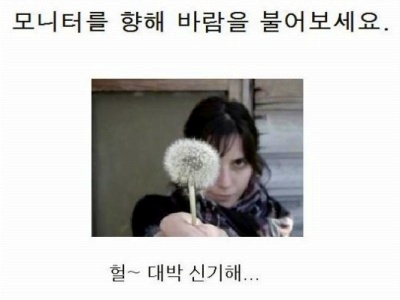 .
.
.
.
.
.
.
.
.
.
.
.
.
.
.
.
.
.
.
나만 당하긴 싫어서..
누구든 한 명은 부는 사람있겠지...
원본 출처: 대마왕님 사설학원
http://www.sirenacademy.co.kr/index.php
저 인터넷 오늘 개통했어요.
너무 뭐라하지 마세요.
이제 별짓을 다하는구나.
Posted by administrator at 01:15 AM | Comments (0)
January 28, 2010
Supernatural Djinn
Garuda from Andres Salaff on Vimeo.
An animated short film about a young boy in India chasing after his dream. Animated at Les Gobelins in Paris by
Nicolas ATHANE athanex.blogspot.com
Meryl FRANCK merylfranck.blogspot.com
Alexis LIDDELL alexisliddell.blogspot.com
Andres SALAFF andressalaff.blogspot.com
Maïlys VALLADE mailysvallade.blogspot.com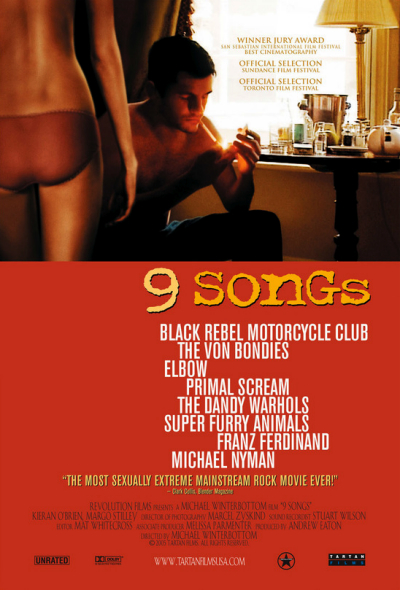 Nine Songs. Michael Winterbottom. 2004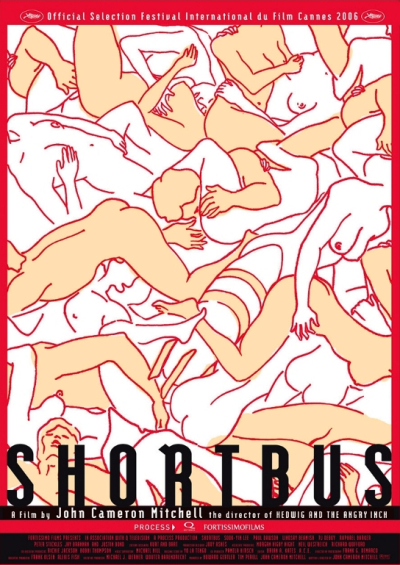 Short Bus. John Cameron Mitchell. 2006
두개가 충돌하면 대폭발. 세 개는 충돌할 수 없슴.
Posted by administrator at 02:05 AM | Comments (0)
January 24, 2010
T.E.D.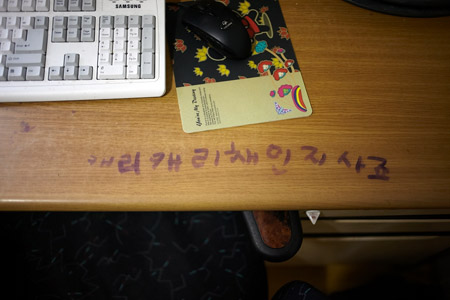 약속 좀 지키란 말이지.
http://www.ted.com/talks/list 접속 후 좌측에서 Korean 선택)
http://apptalk.tistory.com/100
PanPan 이 이제 아이폰을 우리에게 가르쳐준다.
이런거다.
간단한거다.
Posted by administrator at 03:21 AM | Comments (0)
Art Box

다가는 1월의 텅빈 페이지를 위하여.
이제는 정말 쓸모없어진다.
왜이러니 정말.
꿈이 있었겠지?
누군가에는 행운의 꿈.
Posted by administrator at 03:16 AM | Comments (0)
Michelle Rodriguez
내가 블로그에서 단 한번도 타이틀로 직접적인 이름을 거론한적이 없었는데
볼때마다 불쌍해서 올린다. 왜 내가 울어야 되냐고.
왜 죽냐
너도 아니고 맨날 다른 사람을 위해서.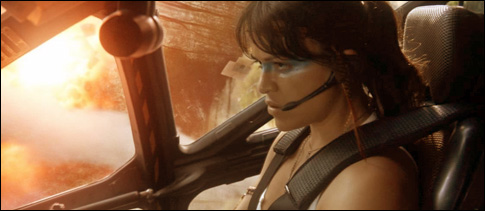 Trudy Chacon (Casting by Michelle Rodriguez)
Posted by administrator at 02:03 AM | Comments (0)
January 13, 2010
Red Scarlet
RED Scarlet and Bomb EVF surprise hands-on!

By Nilay Patel posted Jan 9th 2010 8:24PM
We just got a terrific surprise at the Engadget CES trailer: Ted Schilowitz from RED popped in with a RED Scarlet and the Bomb EVF for a quick hands-on! Our video producer Chad Mumm basically attacked him, as did the rest of the crew -- pretty much everyone surrounded him as he pulled the Scarlet out of its pack. Chad actually shot video and did a little interview -- we'll get that up ASAP, but check out the pics in the gallery below.
아직은 뭘할 수 있을지 모르겠다만, 알려줘서 고맙다. ㅋㅋ
mk2에서도 이제 그만 24P 풀어.. 할만큼 했어
출처: http://www.engadget.com/2010/01/09/red-scarlet-and-bomb-evf-surprise-hands-on/
Posted by administrator at 06:59 PM | Comments (0)
January 09, 2010
co-op work
Next Generation 3d media façade: Seoul National Univ & d'strict from d'strict on Vimeo.
On December 10, d'strict and the Seoul National University Cultural Center revealed a next-generation media facade that has set new standards for the emerging media and UX design industries. A media façade is one of public art forms which is visualized on the exterior walls of a building that can illustrate various visual effects.
The media facade is an industry-university collaborative project that began in October. The project team included ten staff members from d'strict, and 25 students majoring in Information Technology and Culture Technology at SNU (Seoul National University).
Images of the building submerged in water represent a future where global warming has led to higher sea levels and sinking cities. This is a part of Burning Hot Tomorrow, a campaign organized as a part of a mandatory course for the graduating class. Based on the theme 'The branding of newly emerging media', the campaign has produced not only the media façade, but also applications for Gangnam Media Pole, Twitter and iPhone.
The large-scale media facade project, which combines the technology and know-how of d'strict with the creativity of SNU students, has come under the spotlight as a rare digital showcase. In last November, d'strict presented a 20-meter-long motion sensor hologram performance at the launch of Samsung Corby. On November 27, d'strict introduced media façades in a fashion show for the first time in Korea.
Based on an innovation that transcends the existing media, media facades have been used on buildings such as Daewoo Building and Lotte Department Store. More recently, the technology was used for the Festival of Lights which was held at Gwanghwamun Square on December 19. Media facades are created by attaching LEDs to the outer walls of buildings, thereby transforming them into video walls.
However, the SNU project consisted of a next-generation media façade which incorporated 3D scanning of the building's exterior and direct beam projection of videos. Audience immersion is maximized with visual effects specially designed to complement the characteristics of the building.
As such, a building is not merely a substitute for a screen, but delivers 2.5D effects such as protruding and breaking walls. With these videos, the media façade successfully tells the story of global warming.
Posted by administrator at 01:28 AM | Comments (0)
Gift Box
Box Animation from Jordan Clarke on Vimeo.
3D animation presented as an event installation using matchmoving and compositing techniques.
Box materials were hand painted and scanned into the computer to create the materials for this project.
Special thanks to:
Brett Forsyth
Bienvenido Cruz
Josh Carpenter
Jorge Feres Jr
Mike Edel
Danny Chan
Jorge Canedo Estrada
Roger Dario
2009 Vancouver Film School
http://cargocollective.com/jvc
http://www.pfhoe.com/ 99달라짜리라니. 쟤네는 PFtrack을 썼다해도.
Posted by administrator at 01:05 AM | Comments (0)
January 05, 2010
Researcher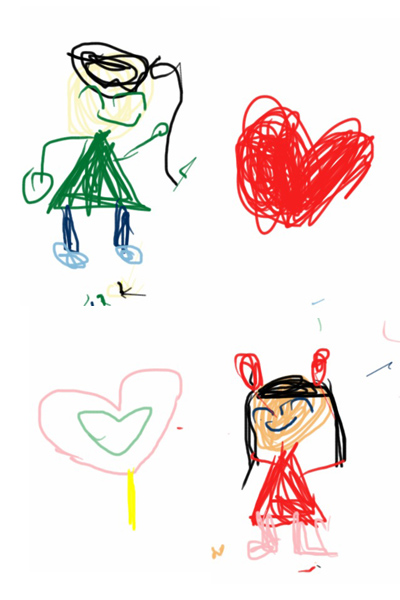 Drawing from PanPan on Autodesk Sketchbook X 3GS
올해의 목표는 감동과 나눔이다.
감동받지 못하는 사람은 감동을 줄 수 없다.
작은것일지라도 감동받을 수 있는 사람이 될 수 있도록 좀 더 노력하자.
그리고 작은것이라도 자꾸 나눠주자.
잘했었다.
그리고 좋은 사람들을 많이 만나고 보았다.
아닌 사람들이 더 잘되는 세상이라서 조금 씁쓸하지만
그래도 좋은 사람들이 꾸준히 곁에 있어 주어서,
욕심많고 속좁은 내가 정화된다.
이제 정말 몇 안되는 남아있는 사람들에게
좋은 사람이 되어야지.
이 사람들은 놓치지 말아야지.
바보.

Posted by administrator at 03:12 AM | Comments (0)
January 01, 2010
Millennium

Bill Viola - Five Angels for the Millennium
Der Gasometer, 110 Meter hoch, 67 Meter Durchmesser, unendliches Echo... 5 gigantische Videoscreens (15 x 18 Meter):
* Ascending Angel
* Birth Angel
* Creation Angel
* Departing Angel
* Fire Angel
Imagine: a hall, 110 meters high, 67 meters diameter, never ending echo... 5 amazing video screens of 15 x 18 meters.
The angels dive into the water or appear out of it; sometimes the water is on the bottom and the air on top, sometimes vice versa. Some films play forward, some backward. Always, however, they play so slowly, that a "real" second is stretched to 20 minutes. I was in there for about three hours, which felt like three minutes. The colors, the sounds, the echo ... Fantastic!

FIVE ANGELS by Bill Viola
Bill Viola is the most important living video artist! In 2003 he installed his "five angels for the millenium" at the Gasometer in Oberhausen where he was part of the new founded festival Ruhrtriennale. The filmmaker (original duration: 15 min.) was following Bill Viola during his set up. The FIVE ANGELS are one of the most impressive video installations and about one million people has watched this installation while it was at the Gasometer.
A film by Ralph Goertz
Institut für Kunstdokumentation und Szenografie
in cooperation with Ruhrtriennale
© IKS/Ralph Goertz
www.iks-medienarchiv.de
초심으로 돌아가서.
Posted by administrator at 02:29 AM | Comments (0)