« Valiant | Main | Eternity »
November 19, 2009
Smoke Leopard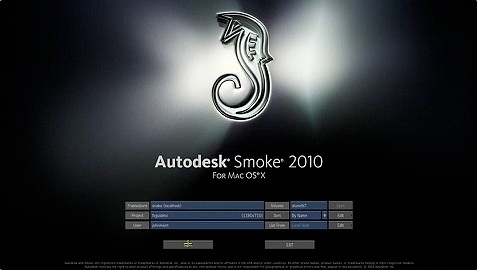 We haven't been able to say anything up until now as we strongly respect our Non-Disclosure agreements as beta testers, but the rumors are true: there is definitely smoke for mac in Autodesk's future. According to Autodesk, they will be "showing a technology preview of its industry leading Autodesk Smoke editorial finishing software running on the Mac OS X platform" at the Inter BEE 2009 conference in Tokyo. Inter BEE is a high-end post production conference in Japan, similar to NAB in the United States and IBC in Europe. "This will be the first time an Autodesk finishing product has been designed to run on the Mac platform," says Autodesk.
At Inter BEE 2009, Autodesk will show several workflow presentations:
- Technology Preview of Autodesk Smoke 2010 for the Mac OS X platform
- Twice daily presentations of Smoke running on this new platform. See how the Smoke integrated toolset for editorial finishing can help post-production and broadcast facilities be more efficient. Limit 80 attendees per session. Limited advance registration available at
http://www.autodesk.co.jp/interbee2009/specialevent
그치. 니들이 언제까지 버티나 싶었다. 근데 니들 이렇게 한들 시장을 어찌할 수는 없을게다. 공룡은 이런 환경에서 살아가기 힘들어.
Posted by administrator at November 19, 2009 04:00 PM
Comments
Post a comment
Thanks for signing in, . Now you can comment. (sign out)
(If you haven't left a comment here before, you may need to be approved by the site owner before your comment will appear. Until then, it won't appear on the entry. Thanks for waiting.)