« I put a spell on you | Main | 2013 »
December 24, 2013
Tout rien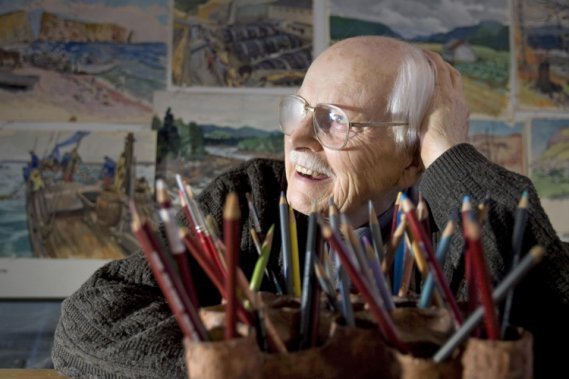 April 8, 1924 – December 24, 2013
Born in Saarbrucken, The Territory of the Saar Basin, he emigrated to Canada in 1948. He began teaching at the Ecole des Beaux-Arts de Montreal. In 1952, he joined the graphics department of Radio-Canada and has remained there since.
He created a massive stained glass mural entitled L¡¯histoire de la musique a Montreal ("history of music in Montreal") at the Place-des-Arts Metro station in Montreal. Unveiled on December 20, 1967, this stained glass was the first work of art to be commissioned for the Montreal metro system.
He was nominated for a 1989 Governor General's Awards in the Children's Literature - Illustration category for L'Homme qui plantait des arbres. In 1989, he was made a Knight of the National Order of Quebec.[1] In 1990, he was made an Officer of the Order of Canada. In 2004, he was awarded the Eco-Hero Media Award from the Planet in Focus film festival.
Frederic Back is a vegetarian and animal rights activist. He often says : "Animals are my friends and I do not eat my friends". He gave conferences on the subject and participated in demonstrations to support animal rights. He founded : "Societe Quebecoise pour la Defense des Animaux" a Society to protect animals.
He died of cancer in Montreal on December 24, 2013.[2]
Le fleuve aux grandes eaux (Documentary short)
1987 The Man Who Planted Trees (Short)
1981 Crac (Short)
1980 Tout rien (Short)
1979 Taratata (Short) (uncredited)
1975 Illusion (Short)
1972 Inon (Short)
1972 The Creation of Birds (Short) (uncredited)
1970 Abracadabra (Short)
http://www.awn.com/news/canadian-animator-fr-d-ric-back-dies-89
http://en.wikipedia.org/wiki/Frederic_Back
http://www.imdb.com/name/nm0045610/
Posted by administrator at December 24, 2013 11:45 PM
Comments
Post a comment
Thanks for signing in, . Now you can comment. (sign out)
(If you haven't left a comment here before, you may need to be approved by the site owner before your comment will appear. Until then, it won't appear on the entry. Thanks for waiting.)