« 80th Oscar | Main | ASIAGRAPH »
March 07, 2008
Amazing Creations

1st place
Growth of cubic bacteria
by Václav Pajkrt
Czech Republic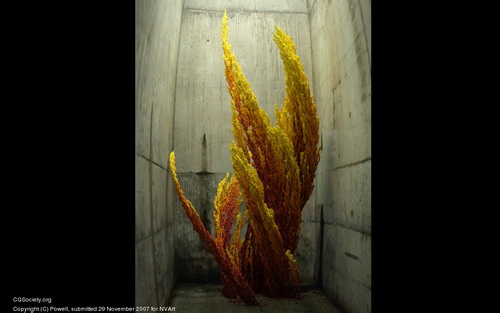 2nc Place
Corner Fire
by Brett Keyes
Canada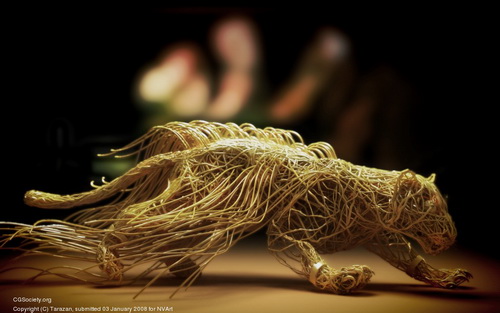 3rd place.
Leopardo
Najeeb El-Faith
Saudi Arabia
Amazing Creations ~ 25 October 2007 - 9 January 2008
NVArt Amazing Creatons Winners Announced - More Info »
Artists through the ages have been dreamers and creators of fantastic images but have always been constrained by the medium they work in. Liquid sculptures, fractal growths and knotted freeways, are all examples of amazing things that only exist in virtual reality.
This competition celebrates the very essence of the creativity that defines digital art – the ability to create artistically and technically excellent images of things that are impossible in the real world. Digital artists don¡¯t have any barriers to realizing their wildest ideas. They can build whole virtual worlds and render them in a way that makes them almost tangible and embodied with life.
What we want.
Artists are challenged to create images of the most Amazing Creations. We want to see images that capture the essence of something that could only exist in a virtual world. This embodies the most powerful attraction of digital art – its ability to create truly amazing things that can not exist in the real world.
Specifically we want to see exciting new images, that are clearly a product of the digital world. However, we don't just want technically excellent renders that are lacking in artistic beauty. The whole point is to create images that are clearly creations of the digital world but retain the artistic beauty and composition of a traditional painting.
What we don't want.
Fantasy creatures, games characters etc. We feel these are too common in both digital and traditional fantasy art.
Deliverables - Submitting your entry
One image per entry must be uploaded prior to Jan 7th 2008.
Images must be 2560 x 1600 JPEG images – at least 90% JPEG quality.
Entrants must be members of CGTalk or CGSociety. The entry process will walk you through a free signup if you are not already registered.
We strongly encourage entrants to participate in the competition forum as they will benefit from feedback from the community.
Prizes:
Over $21,000 (USD) of prizes in total.
1st Prize: 2 x NVIDIA Quadro FX 5500 cards and 1 week ¡®all inclusive' holiday valued at $10,000 (USD).
2nd Prize: NVIDIA Quadro FX 5500 and a $500 (USD) American Express Gift Card.
3rd Prize: NVIDIA Quadro FX 3500 and a $500 (USD) American Express Gift Card.
LINK: http://events.cgsociety.org/NVArt/01/winners.php
Posted by administrator at March 7, 2008 07:36 PM
Comments
Post a comment
Thanks for signing in, . Now you can comment. (sign out)
(If you haven't left a comment here before, you may need to be approved by the site owner before your comment will appear. Until then, it won't appear on the entry. Thanks for waiting.)